2007-05-18 – 01:19
This will be my last night in Mexico. I took an overnight bus to Veracruz. What you get is quite a typical touristic resort. But that's okey – I decided to come here just because it has very god connections to Mexico City where I have a flight to catch tomorrow. Sandra was to join me here to see me before I leave but she used some cheap excuse and cancelled. ;-) I have spent 5 hours on a beach reading a book, swimming… Got sunburned. And I decided to use up a free night at the Holiday Inn in the center. Got a nice room. :-) Being a corporate bitch sometimes pays off. :PLast 4 days I have spent in San Cristobal. Really liked it. Quite a small city with many attractions around. I took tours to Palenque (Indian pyramids in the jungle), Canyon del Sumidero (boat trip – pretty relaxing), religious villages (very, very impressive, villagers claiming to be Christians keeping Mayas traditions and practicing them in the church in front of the figures of catholic saints, saying traditions I mean rituals like taking away the illnesses by sacrificing a chicken, etc.). I also met a nice German chick (Tina), too nice to be German :D and we were hanging around together during the last day. Hope to stay in touch.
Did some shopping. Before in Puebla I bought a poncho and a Mexican style pullover with a hood (this one I'm gonna wear for sure). Yesterday I bought a super-cool cowboy's hat. One of those that you enter the shop and you see it and you know this is THE ONE. So happy. Well spent 7 euros. :D And of course I bought many little things.
Tomorrow flying back home from Mexico city. Don't wanna go back home.
Have tons of unprocessed pictures. I think I will have to work on them back at home (or on the airport if I have some time).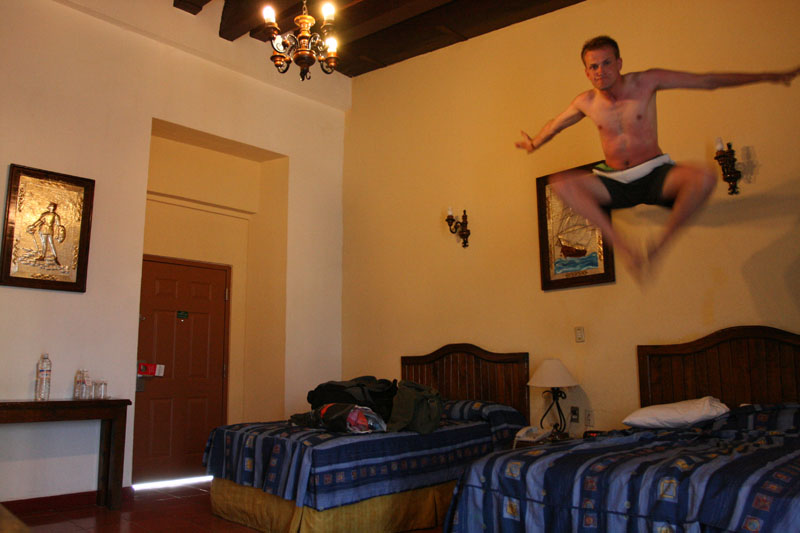 Here is a photo of me sitting on my bed in my modest room in Veracruz, crying to be leaving Mexico.