2009-02-22 – 01:34
[Santiago, Chile]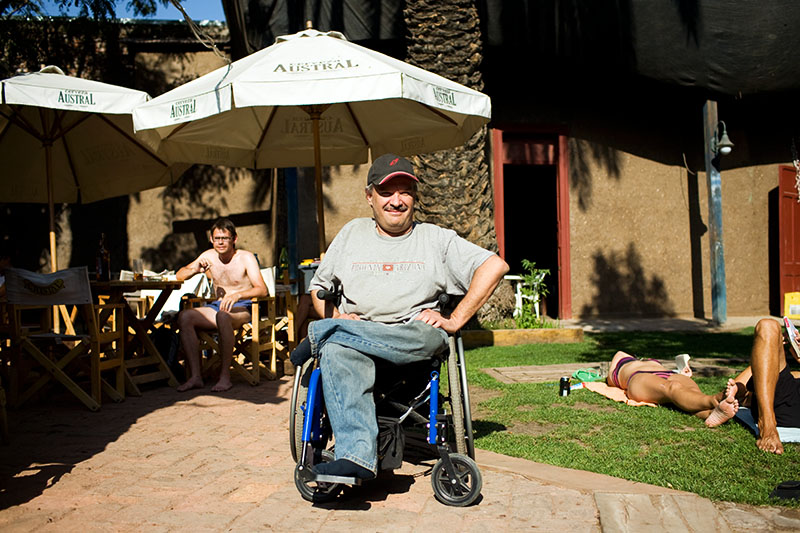 Walt Balenovich. The guy who travelled to 6 continents. Backpacker. In a blue wheelchair.
"My favourite question from airline staff prior to boarding is "Can you walk?" … "Uh, no"."
"When I started backpacking alone I always worried about worst case scenarios, but human nature is great, and people really seem to want to help me out. The wheelchair and a smile really bring out the best in people, and smiles don't need translation!"
"My first trip alone overseas was to Europe, and I landed in Holland, because it was flat, had the amenities I needed and they spoke English widely. I wanted to build up my confidence."
"My problem is tree roots and rocks! I fell out of my chair in Zambia and broke my leg. A few blurry X-rays, an Egyptian doctor and a cast later, I was back on the planes for a brief 34 hours to come home. It was an experience."
"The question I get asked the most is, "Where is your friend?". Meaning my travel buddy or "handler" as one person asked."
"Stairs are a big problem, as you can imagine, so I just ask a group of young people if they can help me up/down as needed. People all over the world trip all over themselves to help me out. It is so great and makes you feel that people all over the world are exactly the same… really friendly!"
"I just find a destination. I don't worry about whether the wheelchair is going to be a problem or not. The world is not built with a ramp."
"You just never know what adventure will happen next in a blue chair!"
You can read more about his adventures in his book "Travels in a Blue Chair: Alaska to Zambia, Ushuaia to Uluru".
This post is a part of my miniproject "dreamers".