2009-04-27 – 05:56
[Maracanã stadium, Flamengo-Botafogo game (2:2), Rio de Janeiro, Brazil]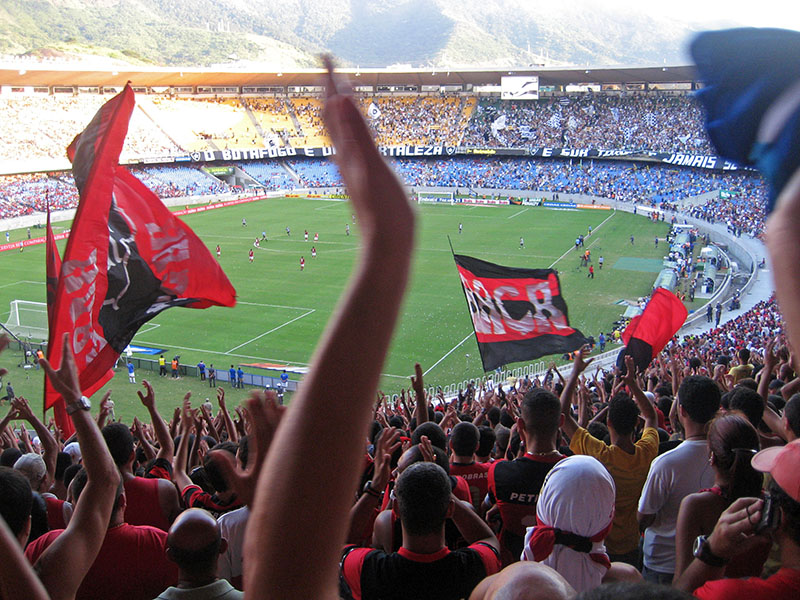 "Cadê Você ?! Cadê Você?!
no Maraca nunca vi, no Engenhão não tava lá,
os jogadores todos choram, não tem torcida pra apoiar!"
"Gdzie jesteście? Gdzie jesteście?
na Marakanie nigdy was nie widziano, na Engenhão was nie było,
płaczcie gracze, których nie wspierają fani!"
Przyśpiewka wymyślona na potrzebę chwili przez fanów Flamengo, by skomentować wolne miejsca w sektorach Botafogo. Nawiązuje do sytuacji, gdy gracze Botafogo po przegranym meczu płakali na konferencji prasowej. Ale tym razem większość z 95 tys miejsc była zajęta (dawniej wpuszczano tu nawet 200 tys ludzi). Dziwnym nie jest, skoro Flamengo, to najpopularniejsza drużyna w Brazylii i ma 43 miliony fanów. Tak, miliony.
Niedziela, to przede wszystkim święto piłki. Bębny, flagi, wytatuowane herby drużyn i dzika celebracja.
I żadne słowa tego nie opiszą, jak czuje się człowiek będąc w środku rozentuzjazmowanego tłumu, więc jeszcze jeden filmik. Pierwszy raz w życiu doświadczyłem falowania betonu pod stopami.
Ten wpis dedykuję Wujkowi Michałowi Skiubie, który ze względu na miłość dla sportu powinien kraj zmienić.