2009-08-28 – 01:06
(en español/castellano)
He comenzado un nuevo proyecto llamado: "En Busca de Babilonia". Lo llevo a cabo en español, pero también será traducido al polaco y al inglés.
(in English)
I have started a new miniproject called "Looking for Babylon". It "happens" mostely in Spanish but will be translated to Polish and English as well.
(po polsku)
Zacząłem nowy projekt "Szukając Bablilonu". Projekt "odbywa się" głównie po hiszpańsku, ale będzie tłumaczony na polski i angielski.
[nearby Copacabana, Bolivia]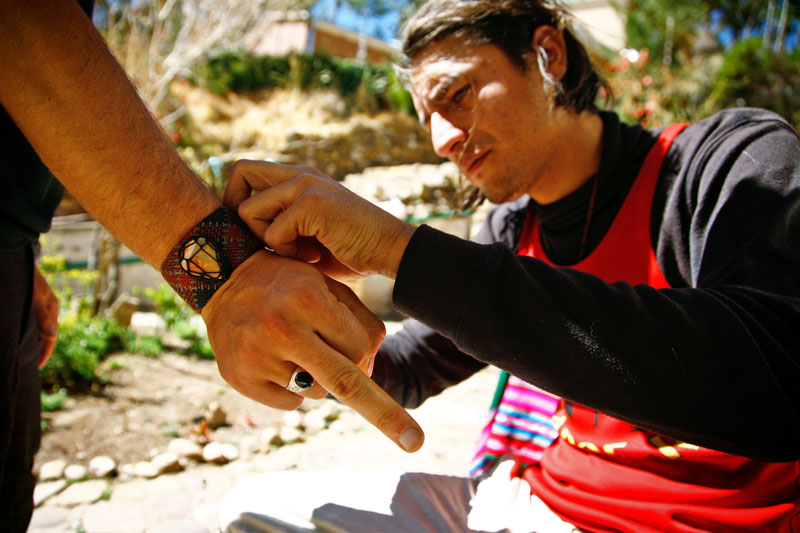 (en español/castellano)
1. Nombre
Hector Sanchez (alias "el nomo")
2. Nacionalidad
Colombia
3. ¿Cuál es tu sueño?
Hacer una comunida auto suficiente.
4. ¿Qué es Babilonia?
Es atrasar la evolucion humana.
(in English)
1. Name
Hector Sanchez (aka "nomo")
2. Nacionality
Colombian
3. What is your dream?
To create a self-sufficient community.
4. What is Babylon?
It's a delay in human's evolution.
(po polsku)
1. Imię
Hector Sanchez (ksywa "nomo")
2. Narodowość
Kolumbijczyk
3. O czym marzysz?
Żeby stworzyć samowystarczalną społeczność.
4. Co to jest Babilon?
To zacofanie w ewolucji człowieka.
This post is a part of my miniproject "En Busca de Babilonia".