2009-09-07 – 00:54
Moja rozbierana sesja zdjęciowa do wywiadu w Vivie! Scenografia stylizowana na pokój w podrzędnym hoteliku w Peru gdzieś w Amazonii.
Szukajcie w kioskach Ruchu S.A. w najbliższych tygodniach!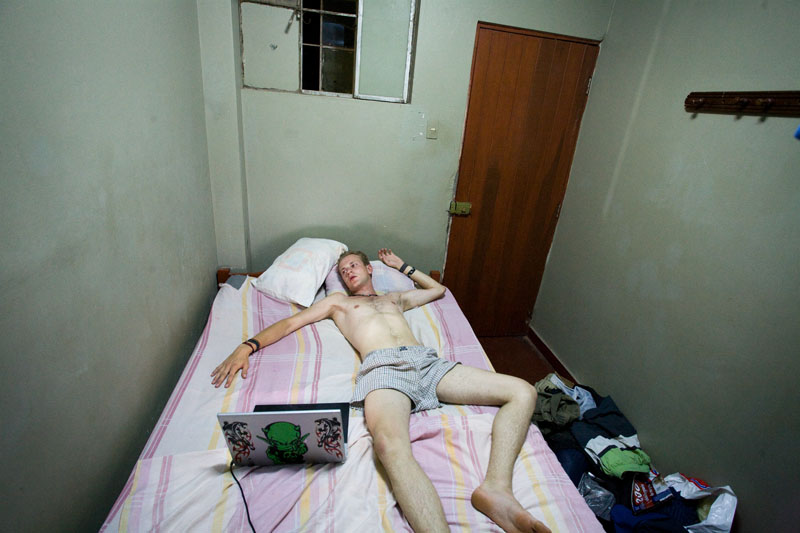 [Pucallpa, Perú]
Upał. Jak biorę pokój, to sprawdzam przede wszystkim czy jest kontakt. Bo laptop, baterie i tak dalej. Przyjechałem w tropiki. Znalazłem taki hostel. Pokazują mi pokój. Jest kontakt. Było nawet okno, a właściwie lufcik w części łazienkowo-prysznicowej*. Okno, cool, nie lubię cel bez choć odrobiny światła naturalnego. Więć wziąłem ten pokój-celę. Ale zapomniałem sprawdzić, czy jest wiatrak. Więc leją się ze mnie strugi potu. O 22 przezornie wyskoczyłem po dwie dwuipółlitrowe butelki wody. Dali mi z lodówki, więc jak doniosłem do pokoju-celi-sauny, to przezornie zawinąłem w dwa polary**, żeby woda nie zamieniła się w ciepły rosół. Jak w Bangkoku. Tylko, że tam był wiatrak.
Ale i tak… STRASZNIE MI SIĘ TU PODOBA!
*) (haha, jakże to dumnie brzmi, po prostu mam w pokoju pół-ściankę, a za nią umywalkę, kibel i rurę z zimnym prysznicem)
**) (kto myśli, że w tropiki nie należy brać ciepłych ciuchów jest w błędzie!)
PS. A z tą Vivą! to wcale nie ściema!